Nanairo gatenmame | 七色合点豆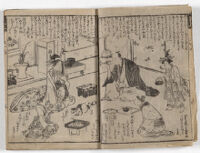 Item Overview
Title

Nanairo gatenmame | 七色合点豆

Alternative title

Nanairo | 七いろ [center column title]
七色合點豆 [variant title]
Eiga otoko nidaime nanairo gatenmame | 榮花男二代目七色合點豆 [title slip]

Author

山東京傳, 1761-1816 and Santō, Kyōden, 1761-1816

Illustrator

北尾重政, 1739-1820 and Kitao, Shigemasa, 1739-1820

Place of Origin

[Edo] : 耕書堂, 享和 4 | [Edo] : Kōshodō, Kyōwa 4

Date Created

[1804]

Language

Collection
---
Notes
Description

Suzuki subject: 文学-国文-小説-近世小説-黄表紙
製版 [seihan] (woodblock printing).
Preface by Santō Kyōden in Kyōwa 4 [1804]: "享和四歳次/甲子春発兌醒世老人/山東京傳述" ; 黄表紙 [kibyōshi] (popular fiction published in two to three volumes each printed on 5 leaves with yellow cover during the late 18th-early 19th centuries ; one type of 草双紙 [kusazōshi], pictorial popular books, published in Edo).

Provenance

Bequeathed by Mr. Julian C. Wright, a collector and art teacher, in 1978.

Colophon

Written by Santō Kyōden, published by Tsutajū: "山東京傳戯作蔦重版" on colophon ; written by Santō Kyōden, illustrated by Hokusū Suihōjin [Kitao Shigemasa], and published by Kōshodō (Tsutaya Jūzaburō) in Kyōwa 4 [1804]: "山東京傳子戯作北鄒酔飽人圖画/享和第四甲子春新刻耕書堂製本/通油町蔦十板" on title slip.
---
Physical Description
Extent

中本 [chūhon]. 3 volumes in 1 (15 leaves) : illustrations ; 171 x 124 mm

Page layout

四周単辺 [shishū tanpen] (within single border) of 15.6 x 11.3 cm.

Illustrations note

墨刷 [sumizuri] (black and white printing).

Binding note

袋綴 [fukurotoji] (pouch binding). 元題簽 [motodaisen] (original title slip) ; 左肩・双辺 [saken sōhen] (double bordered, pasted on the left side of cover) ; 絵題簽 [edaisen] (illustrated title slip). 元表紙 [motobyōshi] (original cover).
---
Find This Item
Repository

Richard C. Rudolph East Asian Library, UCLA

Local identifier

Jun Suzuki, no. 0287
PL798.N36 1804

ARK

ark:/21198/z1k6605r

Opac url

Manifest url
---
---
Access Condition
Copyright Status

public domain

Rights services contact

https://www.library.ucla.edu/location/east-asian-library-richard-c-rudolph; (310) 825-4836
---