Tōkaidō meisho zue : kan 6 | 東海道名所圖繪 : 巻 6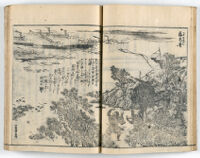 Item Overview
Title

Tōkaidō meisho zue : kan 6 | 東海道名所圖繪 : 巻 6

Alternative title

東海道名所圖繪 [variant title]

Author

Akisato, Ritō, active 1780-1814 and 秋里籬島, active 1780-1814

Illustrator

Takehara, Shunsensai, active 1789-1817, 竹原春泉齋, active 1789-1817, 北尾政美, 1764-1824, and Kitao, Masayoshi, 1764-1824

Place of Origin

江戸 : 須原屋茂兵衛 | Edo : Suharaya Mohei

Date Created

[1797]

Language

Collection
---
Notes
Description

後印 [kōin] (later printing) of 寛政9版 (Kansei 9 [1797]) edition.
Suzuki subject: 地理-日本地誌-地方誌-東海道
製版 [seihan] (woodblock printing).

Provenance

From the Mitsui family collection ; owner's seal "三井文庫" [Mitsui Bunko] stamped. and Bequeathed by Mr. Julian C. Wright, a collector and art teacher, in 1978.

Colophon

Published by Itamiya Zenbē in Osaka and 9 other publishers in Edo, Kyoto, Saga, and Osaka: "発行書林江戸日本橋通壱丁目須原屋茂兵衛/同浅草茅町二丁目須原屋伊八/同日本橋通二丁目山城屋佐兵衛/同両国横山町三丁目和泉屋金右衛門/同芝神明前岡田屋嘉七/京都三条通升屋町出雲寺文治郎/肥前佐賀白山町紙屋惣右衛門/大坂南久宝寺町榎並屋小兵衛/同心斎橋備後町近江屋平助/同心斎橋通南久宝寺町伊丹屋善兵衛."
---
Physical Description
Extent

大本 or 美濃本 [ōhon/minobon]. 1 volume : illustrations ; 254 x 181 mm

Page layout

四周単辺 [shishū tanpen] (within single border) of 21.2 x 15.8 cm.

Binding note

袋綴 [fukurotoji] (pouch binding). 朱色元題簽 [shuiro motodaisen] (red original title slip) ; 左肩・双辺 [sake sōhen] (double bordered, pasted on the left side of cover). 白色・空押し雲文・元表紙 [hakushoku karaoshi unmon motobyōshi] (white embossed original cover with a cloud pattern).
---
Keywords
Subject topic

Tōkaidō (Japan)--Description and travel

Resource Type
---
Find This Item
Repository

Richard C. Rudolph East Asian Library, UCLA

Local identifier

Jun Suzuki, no. 0411
3409.9 A31 v.6

ARK

ark:/21198/z1wh454h

Opac url

Manifest url
---
---
Access Condition
Copyright Status

public domain

Rights services contact

https://www.library.ucla.edu/location/east-asian-library-richard-c-rudolph; (310) 825-4836
---