Zen'aku ingakyō jikige : kan 1 | 善悪因果経直解 : 巻 1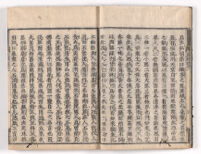 Item Overview
Title

Zen'aku ingakyō jikige : kan 1 | 善悪因果経直解 : 巻 1

Alternative title

Bussetsu Zen'aku ingakyō jikige | 佛説善惡因果經直解 [caption title]
Jikige | 直解卷 [center column title]
仏説善悪因果経直解 [variant title]

Author

Asai, Ryōi, 1612?-1691? and 浅井了意, 1612?-1691?

Place of Origin

[Kyoto] : 西村九郎右衛門, 寬文7 | [Kyoto] : Nishimura Kurōemon, Kanbun 7

Date Created

[1667]

Language

Collection
---
Notes
Description

Suzuki subject: 仏教-経・論-経
製版 [seihan] (woodblock printing) ; implanted with a piece of wood for revision (入木・埋木 [iriki/umeki]) in the second line of text on back of 23rd leaf.
---
Physical Description
Extent

大本 or 美濃本 [ōhon/minobon]. 1 volume ; 266 x 191 mm

Page layout

四周双辺 [shishū sōhen] (within double border) of 20.3 x 16.3 cm ; text in 10 vertical lines. 版心丁付 [hanshin chōzuke] (paging on center column).

Binding note

袋綴 [fukurotoji] (pouch binding). 元題簽 [motodaisen] (original title slip) ; 左肩・双辺 [saken sōhen] (double bordered, pasted on the left side of cover). 縹色・元表紙 [hanadairo motobyōshi] (light indigo original cover).
---
Keywords
Subject topic

Pure Land Buddhism--Doctrines--Early works to 1800

Resource Type
---
Find This Item
Repository

Richard C. Rudolph East Asian Library, UCLA

Local identifier

1826 R98 v.1
Jun Suzuki, no. 0063

ARK

ark:/21198/z1hh813h

Opac url

Manifest url
---
---
Access Condition
Copyright Status

public domain

Rights services contact

https://www.library.ucla.edu/location/east-asian-library-richard-c-rudolph; (310) 825-4836
---