Rouse MS 16. CIRCULAR CALENDAR, fragments.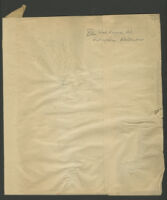 Item Overview
Title

Rouse MS 16. CIRCULAR CALENDAR, fragments.

Uniform title

Date Created

s. XV

Place of Origin

Germany

Collection
---
Notes
Summary

2 rectangular fragments, cut out of a large broadside circular calendar and used as pastedowns. The fragments have now been mounted on a sheet of paper showing the original size of the calendar and their placement on it.

Description

Parchment (thick and stiff), in two pieces 217 x 170-175 mm (If the modern reconstruction is accurate, the calendar had a diameter of 606 mm.). Written on one side (the obverse is blank) by one scribe in a small rounded textualis with a few cursive tendencies in light-to-medium brown ink. Some saints' names in red, names of months in red, dominical letter "A" in red and other dominical letters slashed with red. The two circles separating the saints' names from the numbered grid is outlined in red; the third circle alternates in black, red, and uncolored square-shaped segments (from the intersection of lines on which saints' names are written), two outer circles at the edges of the sheets in red. Red dots along grid axials.
Saints indicate a German origin, such as Willebrord (7 Nov.); and saints such as the 11,000 Virgins (Oct. 21) and especially Gereon (Oct. 10), both in red, suggest Cologne. With transliterations and notes on the paper reconstruction in modern German, and in ink at the top of the reconstructed circle a note "Unter den Namen der Heiligen sehr viel Kölnisch" (among the saints' names, very many are from Cologne; an exaggeration); pencil note on outside by Bernhard Bischoff, Munich ("XV. Got. Kursive, dt. kreisförm. Kalendar"). Gift of Bernard Rosenthal, San Francisco (his MS 34), in March 1988 to Richard and Mary Rouse. Given to UCLA in 2005.
Unbound.The two pieces were cut off at the edges to form pastedowns in a later binding, with one outside corner of each cut off; the parchment is darkened where tongues and turn-ins were once attached; there are four evenly-spaced holes along a deep crease in each sheet where the pastedown was sewn into the binding.
[The calendar consisted of concentric circles intersected by lines radiating from the center. In the outer segments are saints' days, preceded by the usual symbols such as the dominical letter and the golden number. Inner circles contain Arabic numerals that, according to categories listed on one fragment, refer from outermost to innermost to Anno Domini, Aureus numerus, Littere anni, Annus embolismalis, Ciclus solaris, Littere dominicales, <Annus> bissextilis, Indictio, Adventus domini, D<hole>, Intervallum, Dies concurrentes. On the other fragment are syllables, some forming words and some not, written in segmented spaces in circles closer to the center than the numbered categories listed above. These columns are headed by dominical letters and read, in rows:] mar an Pris ca Fab us; Vin cen ti pru[?] po// [next row:] //fe bru o Sco las ti ca vi lent Iu li// [next row:]//Be ne dic ta Ma ri a ge ni tri ce// [next row:] //[quo?]que vi ta quod[?] phi lipum vix[?]// [next row:] //var[?] ser[?] et soph ma y[…?]//
---
Physical Description
Dimensions

Two pieces 217 x 170-175 mm

Medium

Vellum pasted on paper.
---