Manuscript No. 45: Calendar of Feasts, 17th Century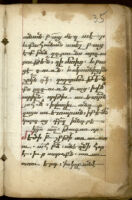 Item Overview
Title

Manuscript No. 45: Calendar of Feasts, 17th Century

Uniform title

Date Created

17th Century

Place of Origin

New Julfa

Language

Collection
---
Notes
Summary

The MS is a defective copy of the "Calendar of Feasts" (Tōnats'oyts') of the Armenian Church. As indicated earlier, folios are missing at the beginning and end of the book and there are many lacunae throughout the text. The contents of the surviving leaves are as follows:Fols. 1-9v. (Title missing; text unknown.)Fols. 10-44v. Eve of Epiphany.Fols. 44v-54v. Eve of Good FridayFols. 54v-59. Eve of Great Saturday.Fol. 59. Prayer/Inscription.Fols. 59-67v. Eve of Holy Easter.Fols. 67v-70. Eve of New Sunday.Fols. 70-71v. Feast of the Annunciation to the Theotokos. Fols. 101v-103v. Feast of Joachim and AnnaFols. 103v-105. Birth of Theotokos.Fols. 105-114. Eve of the Holy Cross.Fols. 114-115v. Seventh Sunday of the Invention of the Cross. Fols. 116-127v. Feast of the Archangels Gabriel and Michael and of the heavenly host.Fols. 128-145v. Mesedis for the Nativity, Resurrection, martyrs, penitence, Lent, and fasting.Fols. 145v-164. Alleluiahs for the Resurrection, Ascension, Pentecost, Holy Cross, the Raising of Lazarus, and the Transfiguration.Fols. 164-173v. O King for penitence and for martyrs.Fols. 173v-175. Feast of St. Stephen.Fols. 175v-183v. Readings from the Gospels of Matthew, Mark, Luke, and John.Fols. 184-203v. (Text unknown; folios missing at beginning and end, with lacunae in between).Fol. 203. Inscriptions by a late owner; undated.

Provenance

The book's principle colophon is missing; hence its date of execution and provenance is unknown. Two prayer/inscriptions (fols. 59 and 96) mention the name of the priest Anton. MS 10 in the New Julfa collection, comprising excerpts from the Bible, was written by a certain Anton Dpir at New Julfa in A.D. 1641 (See Tēr-Awetisian, Ts'uts'ak Nor Jughayi, 1:17-19). We can perhaps assume that this Anton Dpir also copied our Calendar of Feasts in Ne Julfa after 1641, when he had become a married priest.Fol. 203 has an undated inscription indicating the book's acquisition by a priest named Aghek'sandr; the text also mentions the names of his son, the priest Step'annos, and his grandsons, Astuatsatur and Martiros. Fol. 9v has a stamped seal with an illegible inscription. A notation on a slip of paper indicates that Dr. Minasian purchased the codex on February 9, 1965, From Artashēs, son of Pōghos P'eriats'I, for 150 rials.
---
Physical Description
Extent

203 fols.

Dimensions

11x7 cm.

Binding note

Traditional Armenian binding. Damaged, loose binding, lower cover detached. Brown damaged leather over horizontally cut wooden boards; horizontal portion of head and tail missing at upper board and at head of detached lower board. Very worn blind-tolling. Spine leather wanting; white spine lining cloth visible. No flap. Holes on boards (three on front and perhaps three pairs on back) indicate previous existence of clasps. Endbands wanting. Red, white, and brown flower-printed cloth lines lower board, now partially obscured by added paper pastedowns. Edges are uncolored. Three loop board attachments clearly visible on inside front board. There is a small piece of twisted black cloth placed below the spine lining and reaching out at the head (perhaps once a page marker?).

Condition note

Poor state of preservation. Because of the condition of the binding, the leaves are loose, there are also many lacunae. Many leaves have been damaged by fire and dampness.

Illustrations note

The codex is illustrated with two small headpieces (fols. 10 and 59v) accompanied by marginal palmettes and decorative initials, and by 11 illuminated initials with 9 corresponding marginal birds and palmettes.The modest illumination of this book is conservative in concept and unsteady in execution, leaving the impression of an amateur artist whose carefulness could not compensate for his lack of familiarity with his materials and his hesitant draftsmanship. The illumination on fol. 10, with its headpiece, marginal palmette, and illuminated incipit, is typical. The two interlocking rows of three-lobed bud motifs forming the headpiece are traditional forms with which the artist has taken some pains. They are hesitantly traced in black and tinted in blue and red. The background is a red wash. As a final touch, the junctures of the buds are marked with large, erratically spaced dots of black ink, which disrupt the pattern.The birds which form the initials A and Ts are equally traditional, and also tinted blue and red with poorly controlled black accents. Here the artist's uncertainty is clearly evidenced in pentimenti: the birds were sketched in a very pale red line, repositioned rather drastically, and then outlined in an uneven black line.
---
Keywords
Genre

Resource type
---
Find This Item
Repository

ARK

ark:/21198/zz0026w2pj

Manifest url
---
---
Access Condition
Rights statement

public domain
---