Manuscript No. 26: Ritual Book, 17th/18th Century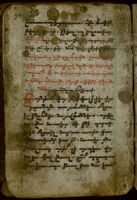 Item Overview
Title

Manuscript No. 26: Ritual Book, 17th/18th Century

Uniform title

Date Created

17th/18th Century

Language

Collection
---
Notes
Summary

A defective copy of the Ritual Book (Mashtots") of the Armenian Church. Its principle divisions are as follows:Pages 3-43. [Canon of baptism.] (Pages 1-2, 11-14 are missing.)Pages 44-51. Canon of presentation of a forty-day-old child in church.Pages 52-61. Canon of the blessing of a cross.Page 61. Inscriptions.Pages 62-75. Canon of blessing of wedding vestments.Pages 76-103. Canon of marriage.Page 103. Inscription.Pages 104-113. Canon of removal of the marriage crown.Pages 113a-113h. Canon of a second marriage.Pages 114-125. Canon of administration of Holy Communion.Pages 126-172. Canon of burial of a child.Pages 173-179. Canon of visitation to the sepulcher on the seventh day.Pages 180-246. Canon of burial.Page 246. Inscription.Pages 247-254. Canon of visitation to the sepulcher on the fortieth day and on the anniversary.Pages 263-264. Lament on the burial of a child. Pages 265-267. Lament on the burial of laymen.

Description

Text in notragir, written in one column of 18 lines. Subtitles in red notragir, and initials of subtitles and opening lines of text in large erkat'agir or notragir in red ink. The quires are not numbered, but the gatherings have 8 leaves each.

Provenance

The principal colophon is missing, hence the date of execution and provenance of the book are unknown. The paleography suggests that the MS was written in the 17th or 18h century, probably at New Julfa in Isfahan.An unknown individual, presumably a subsequent owner of the book, recorded the names and birthplaces of five children and the name and wedding date of one young woman. The earliest inscription is dated 1784, and the latest 1821 (pages 61 and 113h).In 1877 the book belongedto an individual named Abraham Grigor, whose signature and the date appear on page 103. We have already noted that this gentleman also owned MS 25 in this collection. According to an inscription on page 246, dated January 6, 1911, the codex was later owned by the priest Yovhannes Suk'iasian, a native of Charmahal in the province of Isfahan.According to a notation on the inside front cover, the book was acquired by Dr. Minasian on November 13, 1946, from Simic Barituly.
---
Physical Description
Extent

267 pages

Dimensions

16x10.5 cm.

Binding note

Traditional Armenian binding. Dark brown damaged leather over the wooden boards with no tooling. Upper board has vertical gain, and has cracked vertically in two places. Lower board was cut with a horizontal grain and has cracked horizontally. Beige cloth spine lining. No flap or cloth doublures. Fragment of one of two leather thongs used for fastening can be seen on back board, and two holes remain on front where closure pins were once located. Red silk (?) threads at head and tail are the only evidence of endbands. Edges darkened. Textblock has pulled away from spine and warped, but is still attached to boards. Traditional structure using three board attachment loops, but no notches used at sewing stations.

Condition note

The MS is in a fair state of preservation. Many leaves have suffered damage from fire and dampness, but the text is legible throughout. The folios were paginated by the scribe, who, however, inadvertently skipped numbers 64, 65, 77, 97, and 98. Four leaves between the pages 113 and 114 have not been numbered, perhaps because they were later additions. For purposes of this description, these page have been assigned numbers 113a-h. Pages 1-2, 11-14 of the codex are missing.
---
Keywords
Genre

Resource type
---
Find This Item
Repository

ARK

ark:/21198/zz0026hvh4

Manifest url
---
---
Access Condition
Rights statement

public domain
---