Manuscript No. 17: Menologium and Sermonary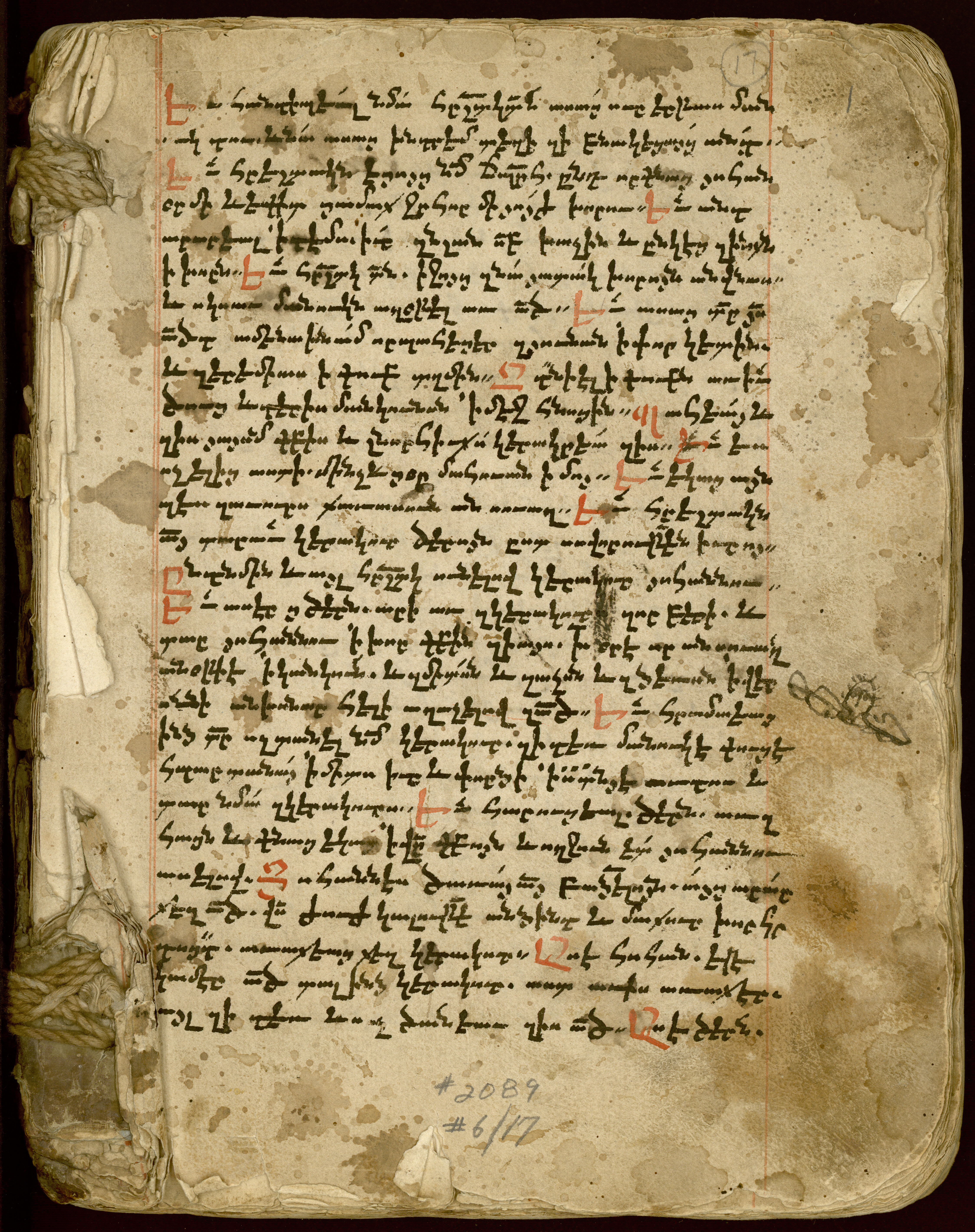 Item Overview
Title

Manuscript No. 17: Menologium and Sermonary

Alternative title

Yaysmavurk' ew Kʻaroz girkʻ

Date Created

17th century

Language

Collection
---
Notes
Description

Paper; 89 folios. Text in notragir, written in one column on 28 lines. Subtitles of texts in red bolorgir. Large decorative initials on the opening lines of text: the first lines of text are in magenta arkat'agir, the second in red bolorgir, the rest of the page in notragir. Numerous initials throughout the codex in red notragir capital letters.There are two sets of quire numbers. According to the original numbering, the codex consisted of 8 quires, but at least 8 leaves are missing at the beginning and others at the end of the book. The first numbered quire is on fol. 9v, designating it as quire 2. The remaining numbered quires have a varying number of leaves: no. 3 has fourteen, no. 4 has sixteen, nos. 5, 6, and 12 have twelve, and no. 7 has ten leaves. According to the second set of quire numbers, the original codex consisted of 14 numbered quires.

Colophon

Prayers/inscriptions written by scribe:Fols, 17, 20, 37v, 48v, 51v, 54, 57v, 61v, 65, and 79vLater inscriptions:Fols. 38v-39r. Written in lower margins of both pages in crude handwriting.Fol. 59v. In left margin in bolorgir.Fol. 85v. Two illegible inscriptions, one in left margin and the other in lower margin.Fol. 86. In lower margin in notragir.Fol. 86v. At the end of text in left column in notragir.Fol. 86v. In lower margin in crude notragir.Fol. 87v. In left and lower margins in crude notragir.

Provenance

The principal colophon is missing; hence the book's date of execution and provenance are unknown. However, nine of the texts end with prayers mentioning names of individuals associated with the writing of the codex. Additionally, there is prayer on fol. 17 which asks, "Christ God have mecy upon me, the recipient of this book, the unworthy priest"; this owner's name, however, is not mentioned here. His identity is revealed in the prayer on fol. 79v, which asks that Christ forgive the sins of "the recipient of this book, the priest Margar, as well as my mentor Awet." Four other prayers (fols. 20, 51v, 57v, and 61v) indicate that the MS was copied by the zhamarar (officiating priest) Margar, that is, the same cleric who owned the codex. Another four prayers (fols. 54 and 65) also provide the name of Margar's immediate family members, namely, "my father Alayverdi, my mothers Asēlxan, Yana, and Khat'un, and my brother Kirakos"; two of these prayers (fols. 54 and 65) also provide the name of Margar's sister Azat'lu. There is no explanation as to how Margar could have three mothers; we can perhaps conjecture that Asēlxan was his biological mother and Yana Xat'un were his stepmothers.The MS was probably written in the first half of the 17th century at New Julfa in Isfahan. The earliest date found in the codex is in an inscription on fol. 86v, referring to "the martyrdom for his Christian faith" of an individual named Grigor in the year 1090 of the Armenian Era (=A.D. 1641) in the village called Xoyigan. (Xoygan was an Armenian village in the district of P'ēria in the province of Isfahan.) Another inscription on fol. 86v refers to the death of an Armenian notable named Aghay Zak'arē on Ascension Day in the year 1137 of the Armenian Era (= A.D. 1688). Similarly, another inscription (fol. 87v) records the deaths of two other individuals ; K'erixan, son of Sahak, and Varder, in A.D. 1704 and 1747, respectively. Yet another inscription (fol. 86), dated A.D. 1721 and 1726, mentions Shah Sultan Husain of Iran, and the wedding og an individual named Apriham, son of Sahak.Two inscriptions suggest that in the late 19th century the codex may have been owned by an individual named Abraham Hērapet or Aprayham Hēraypet, whose notices are dated A.D. 1878 (fols. 38-39) and 1887 (fol. 59v).There is no indication as to when and from whom the codex was acquired by Dr. Minasian.
---
Physical Description
Binding note

None: At present, textblock is crudely stab-sewn with thick cord wrapped through stabbed hole and spine. Fragments of original leather and cloth spine lining can be seen on spine. Text was previously sewn over four vellum supports.

Condition note

Poor state of preservation. Folios missing at the beginning and end of the codex. Some leaves have suffered damage from dampness. Crude outline drawings in black ink have been added in more recent times. The margin of fol. 4 has been cut out, probably to remove the decoration.

Illustrations note

The MS is illustrated with 13 marginal ornaments and 14 large decorative initials. Each illumination is based on a drawing in uneven lines of black ink. Up to folio 48v, the drawings have been overpainted in bright, uneven washes of red, blue, and purple. Little blank paper is reserved, and the resulting images look flat. Starting with fol. 48v, the ink drawings have not been colored. On folios 1-73, the decorative initials correspond to the marginal illuminations. These letters are all bird-form. Often they deviate awkwardly from traditional dispositions of the birds; for example, the letter A is composed if three birds of equal size, two joined at their tails to form the vertical body of the letter, and the third comprising a greatly oversized horizontal ligature. Starting with fol. 74v, the letters are no longer bird-form, and there are no marginalia.Fol. 86v, one of the older leaves at the end, that do not belong to this codex, carries a badly preserved one-column headpieces and a marginal palmette, drawn in magenta and highlighted in blue. Their softly modeled forms recall the illumination of MS 5.
---
Keywords
Genre

Resource type
---
Find This Item
Repository

Local identifier

Armenian MS 17

ARK

ark:/21198/zz0026hv70

Manifest url
---
---
Access Condition
Rights statement

public domain

Rights contact

UCLA Library Special Collections, A1713 Charles E. Young Research Library, Box 951575, Los Angeles, CA 90095-1575. Email: spec-coll@library.ucla.edu. Phone: (310) 825-4980
---