Rouse MS 37. CALENDAR in Middle Dutch.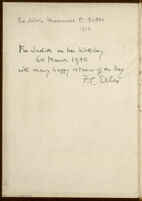 Item Overview
Title

Rouse MS 37. CALENDAR in Middle Dutch.

Uniform title

Date Created

XV

Date

1400 /1499

Place of Origin

Netherlands

Language

Collection
---
Notes
Description

Once part of a prayerbook probably written in the fifteenth century in the archdiocese of Utrecht. Brevity of the calendar and the pocket size suggest personal use. Separately bound since at least 1861 when it was sold by the London publisher and bookseller John Camden Hotten (1832-1873; DNB [1937] 9.1310-1311): on rear flyleaf (older paper), "from J.C. Hotten's Catalogue (A.D. 1861) Part xxxiv no. 259." Acquired in 1912 by the British historian and liturgist Francis C. Eeles (1876-1954), who in 1940 gave it to his secretary Judith D. G. Scott, who wrote Eeles's memoir in 1956: in ink on front pastedown, "Ex libris Francisci C. Eeles 1912" and "For Judith on her birthday 6th March 1940 with many happy returns of the day. F. C. Eeles" (see J.D.G. Scott, F. C. Eeles, King's College Chapel Aberdeen … Memoir of Dr. F. C. Eeles [Aberdeen 1956], pp. ix-xxii). Note on first flyleaf in Eeles' hand: "Kalendar from a Book of the Hours of the Blessed Virgin Mary according to the Use of Utrecht." The book was probably sold with Judith Scott's estate after her death. Catalog or sale number, f. i, "CR 387." Bought from Kenneth Karmiole Bookseller Inc., Santa Monica, CA, by Richard and Mary Rouse in December 1989. Given to UCLA in 2005.
---