ROUSE MS 1. CARTULARY OF WINDSHEIM, O.E.S.A.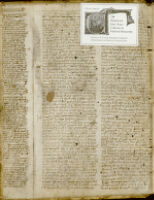 Item Overview
Title

ROUSE MS 1. CARTULARY OF WINDSHEIM, O.E.S.A.

Uniform title

Date Created

1421-1462

Date

1421/1462

Place of Origin

Germany (Windsheim)

Language

Collection
---
Notes
Summary

Cartulary or privilege book of the Augustinian Hermits of Windsheim, Germany, in German (with the prologue, titles, and a few entries in Latin), recording transactions that occurred in the years 1421-1462, with copies of older records dating between 1373 and 1413 and the addition of later entries until at least 1476. Donated items usually consisted of land, but some movable objects were donated as well, including a chalice (see no. 32) and a lamp (no. 40); rent payments were not only in cash but in kind and service. Forty-one separate statements — of donations, of abbey land leased out, and of other transactions — record the names and professions of about 35 donors (or lessees, etc.), as well as the name of the current official, usually the prior, who recorded each entry. Different hands have copied entries from 1421 in chronological order, which is often disrupted by the fact that later entries were sometimes inserted in blank spaces amid much earlier ones. Headings were usually added in the top margin or above the entry; they have been italicized below, even though they were not written in red ink or a display script. After the heading, the entries below give the name of the prior or church official, followed by names of donors, lessees, or other concerned parties as they appear in the text.

Description

Written in the fifteenth century at Windsheim near Nuremberg, Germany; although the title on the cover says 1414-1462, copying of the book began only in 1421 (cf. Prologue) and continued until at least 1476 (f. 8). Passed at an unknown date to the library of Nuremberg. Acquired from Bennett Gilbert, Inc., Melrose Avenue, Los Angeles, December 1983 by Richard and Mary Rouse. Given to UCLA in 2005.
---
Physical Description
Extent

Contemporary binding in full alum-tawed skin over wooden boards with upper surfaces bevelled.

Medium

Parchment thick; 254 x 197 (177-206 x 129-143) mm. Twenty-one different copyists.
---