Map of California land grants held by people of African descent from 1784 to 1810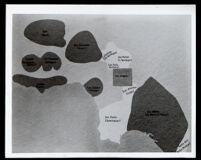 Item Overview
Title

Map of California land grants held by people of African descent from 1784 to 1810

Alternative title

Maps and Demography of Los Angeles

Creator

Date Created

[undated]

Collection
---
Notes
Description

Quinto Zuniga was a soldier from Guadalajara, identified as a mestizo in census records. He acquired the Rancho Topanga Malibu Sequit land grant in 1804.
Jose Manuel Nieto, (1703-1804). Was a mulatto "leather jacket" soldier in the Portola expedition (1769) and received one of the largest Spanish land grants in California (1784).
Map showing the locations of California Rancho land grants based on size and on the ethnic classification of the original, or early, recipient of the land grant. It indicates ranchos owned by people of African descent. This includes: Rancho Simi, (Javier, Patricio and Miguel Pico); Rancho San Fernando, (Juan Francisco Reyes); Rancho Topanga Malibu Sequit, (Jose Bartolome Tapia); and Rancho Los Nietos, (José Manuel Nieto).
Jose Bartolome Tapia was the son of a mulatto soldier father and a mestiza mother. He acquired the Rancho Topanga Malibu Sequit in 1804.
Jose Polanco and Ygnacio Rodriguez received the Rancho El Conejo in 1803.

Caption

Typescript Caption: Map of Ranchos in the Vicinity of Los Angeles From 1784-1810. Dark areas on this map, which was compiled by William Mason of the L.A. County Museum of Natural History, indicate the vast ranchos in the vicinity of Los Angeles whose owners between 1784 and 1810 were of part African descent. Included are the Simi Rancho owned by the Pico brothers, Malibu Rancho owned by Tapia, Los Nietos by M. Nieto & C. Nieto, Los Quintos by Zuniga and several others. Written below caption: Dark areas on map show large ranchos in the Los Angeles area which were owned by individuals of Negro descent between 1784-1810. Map compiled by William Mason, curator L.A. County Museum of Natural History.
---
Physical Description
Extent

1 map
---