Konjaku zoku hyakki : kan 2 | 今昔続百鬼 : 巻 2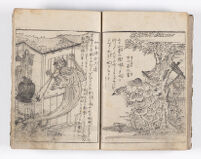 Item Overview
Title

Konjaku zoku hyakki : kan 2 | 今昔続百鬼 : 巻 2

Alternative title

続百鬼 [variant title]
Konjaku gazu zoku hyakki. Kai | 今昔畫圖續百鬼. 晦 [title slip]
今昔續百鬼 [variant title]

Uniform title

Illustrator

Engraver

Date Created

[1805]

Place of Origin

勢州 [伊勢] 洞津 : 長野屋勘吉, 安永 8 | Seishū [Ise] Anatsu : Naganoya Kankichi, An'ei 8

Language

Collection
---
Notes
Description

後印 [kōin] (later printing) of 安永8版 (An'ei 8 [1773]) edition.
求板本 [kyūhanbon] (reprint by other publishers with license) in 文化2 (Bunka 2 [1805]).
Suzuki subject: 芸術-絵画-画帖・絵本
製版 [seihan] (woodblock printing).

Provenance

Gift of Mr. Franklin P. Rolfe.
---
Physical Description
Extent

半紙本 [hanshibon]. 1 volume : illustrations ; 224 x 158 mm

Page layout

四周単辺 [shishū tanpen] (within single border). 喉丁付 [nodo chōzuke] (paging on gutter).

Binding note

袋綴 [fukurotoji] (pouch binding). 朱色元題簽 [shuiro motodaisen] (red original title slip) ; 左肩・単辺 [sake tanpen] (single bordered, pasted on the left side of cover). 利休鼠色・横刷毛目・元表紙 [rikyū nezumiiro yoko hakeme motobyōshi] (grayish green original cover with horizontal brush design).

Condition note

Lacks volume 1 ; 総裏打ち [sō-urauchi] (fully-lined).

Illustrations note

薄墨刷 [usuzumizuri] (light-black printing).
---
Keywords
Genre

Subject topic

Toriyama, Sekien, 1712-1788
Monsters in art
鳥山石燕, 1712-1788
Monsters Japan--Pictorial works

Resource type
---
Find This Item
Repository

Local identifier

NE1325.T675 A79 1773 v.2
Jun Suzuki, no. 1023

ARK

ark:/21198/z1669v85

Opac url

Manifest url
---
---
Access Condition
Rights statement

public domain

Rights contact

https://www.library.ucla.edu/location/east-asian-library-richard-c-rudolph; (310) 825-4836
---