Tendai sandaibu hochū : kan 14 | 天台三大部補注 : 巻14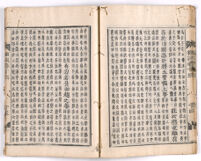 Item Overview
Title

Tendai sandaibu hochū : kan 14 | 天台三大部補注 : 巻14

Alternative title

Tiantai san da bu bu zhu [variant title]
Fa hua san ta pu pu chu [variant title]
T'ien-t'ai san ta pup u chu [variant title]
Hokke sandaibu hochū | 法華三大部補注 [variant title]

Author

Date Created

[1627]

Place of Origin

洛陽 [Kyoto] : 河面半衛門, 寬永4 | Rakuyō [Kyoto] : Kawatsura Han'emon, Kan'ei 4

Language

Collection
---
Notes
Description

古活字版 [kokatsujiban] (early movable type printing in the late 16th-mid 17th centuries).
Reading marks in red ink.
Suzuki subject: 漢籍-子部-釈家類
Vols. 11-14. 止観 ; 輔行 [Shikan ; Bugyō/Zhi guan ; Fu xing].
---
Physical Description
Extent

1 volume ; 282 x 192 mm

Page layout

四周双辺 [shishū sōhen] (within double border) of 22.3 x 15.2 cm ; text between 9-18 vertical lines. 白口 [hakkō] 花口 [kakō] 双魚尾 [sōgyobi] (white center column with floral-patterned double fishtails).

Binding note

袋綴 [fukurotoji] (pouch binding). 栗皮色・元表紙 [kurikawairo motobyōshi] (chestnut brown original cover) ; 渋引き表紙 [shibubiki-byōshi] (tanned paper cover).

Condition note

Slightly wormed.
---
Find This Item
Repository

Local identifier

BQ9118.T78 1627 v.13
Jun Suzuki, no. 1260

ARK

ark:/21198/z14472g8

Opac url

Manifest url
---
---
Access Condition
Rights statement

public domain

Rights contact

https://www.library.ucla.edu/location/east-asian-library-richard-c-rudolph; (310) 825-4836
---