Stops transmission-fluid leaks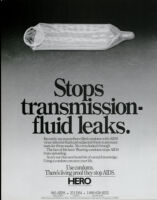 Item Overview
Title

Stops transmission-fluid leaks

Alternative title

[Condom] stops transmission-fluid leaks
Use condoms. There's living proof they stop AIDS

Creator

Photographer

Place of Origin

Baltimore (Md.)

Publisher

Health Education Resource Organization (Baltimore, Md.)

Language

Collection
---
Notes
Description

Poster held by Louise M. Darling Biomedical Library. History & Special Collections, Collection no. 306, item US018.
Poster depicts a black and white photograph of a used, stretched out condom. The image of the condom connects to the title to suggest the importance of a condom as prevention to the transmission of AIDS.
---
Physical Description
Dimensions

28 x 36 cm. (11 x 14 in.)

Condition note

Additional poster text: Recently, top researchers filled condoms with AIDS virus-infected fluid and subjected them to pressure tests for three weeks. No virus leaked through. The fact of life here: Wearing condoms stops AIDS from spreading. So try out this newfound bit of carnal knowledge: Using a condom can save your life.
---
Keywords
Genre

Subject topic

Acquired Immunodeficiency Syndrome--prevention & control
Condoms
Testing
AIDS (Disease)--Transmission

Location

Resource type
---